Housekeeping Services
360 Facility Services knows that our customers are accustomed to an environment that is clean and healthy. Hence, our experts have been trained to offer top-notch housekeeping and maintenance for your workplace.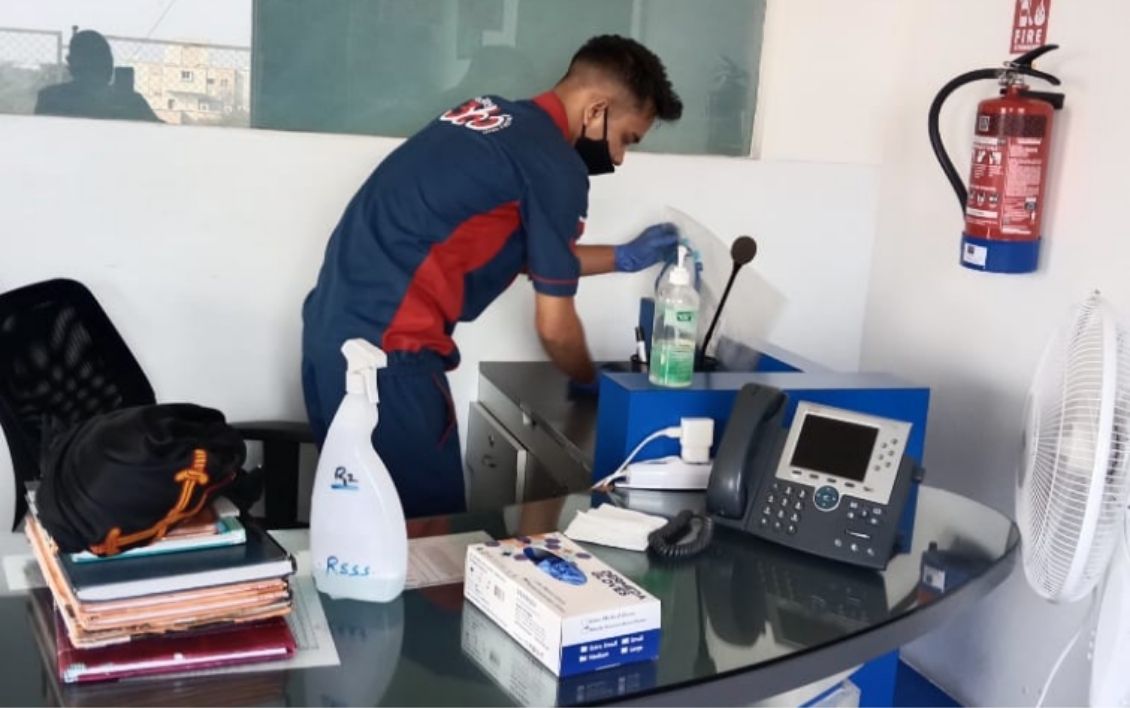 Best Housekeeping Services
Housekeeping is a term that refers to the process of transforming your residential or domestic space into a cleaner and healthier place. Experts at 360 Facility Services will make sure that the process of cleaning and maintaining your space is completely stress-free for you. They take complete responsibility and contribute to your mental well-being as well. For cost-effective housekeeping services in Delhi, Noida & Gurgaon you must choose us.
We offer a variety of options in housekeeping service to make sure that our customers have complete freedom to choose the best for them. They can either hire a single cleaner for their day-to-day needs in a smaller space or sign a package deal for our comprehensive services of facility management.
Unrivaled Expertise
360 Facility Services can be referred to as the best housekeeping company in Delhi, Noida & Gurgaon, our experts utilize up-to-date technology to ensure that your space is perfectly hygienic for your workers and your loved ones. Moreover, the products used for cleaning your space are top-notch in quality and friendly to the environment which ultimately makes them safe and ideal for everyone. We also strictly follow the guidelines for safety and use chemicals that are harmless for your pets as well.
Services offered by our professionals are unbeatable in the industry since we use cutting-edge technology and supplies to make sure that not even a single corner of your space remains untouched or unclean. The extensive experience of our experts and their excellent knowledge to manage both the residential and domestic spaces make them ideal for any kind of property.
We offer comprehensive cleaning and sanitizing of home and workplace. You can enjoy guaranteed maintenance of your space and all your worries regarding day-to-day chores will be gone.
You can hire our housekeeping services in Delhi, Noida & Gurgaon for services in residential buildings, commercial structures, healthcare facilities, study centers, factories, special events, and more.
We can offer comprehensive housekeeping services for any type of structure irrespective of their sizes. 360 Facility Services offers customizable services to its customers as per their specific requirements. Customers can hire our housekeeping services on a monthly, weekly, or daily basis; whatever suits their needs the best. Looking for a reliable housekeeping company in Delhi, Noida & Gurgaon? Contact us!

What Makes Us Different?
Our team consists of experts who are willing to take directions from our clients and create their work plans accordingly. Our strategies are customized to meet the specific needs related to your space. We make sure that none of your requirements or preferences are overlooked during the service so that the final results are up to your expectations. Professionals at 360 Facility Services aim to offer their clients a cleaner and healthier environment so that inhabitants can live and work peacefully with a sense of security and safety.
During our services, the premises are cleaned with the help of advanced equipment manufactured by the best companies around the world. The non-toxic and environment-friendly elements used by us during the services make sure that we create a clean space that cannot cause kind of harm or hazard to anyone.
We offer a thorough cleaning of your space which starts from the very basic step of vacuuming and goes through dusting, moping, disinfection and ends at waste removal. You can also hire us for special services related to cleaning, restoration, and more.

We Are a Call Away!
The wide range of services offered at 360 Facility Services can meet any of your exceptional housekeeping needs. Our skilled experts are available for housekeeping services in Delhi, Noida & Gurgaon. Looking for the best housekeeping company? Contact us!
We provide quality housekeeping staff services for commercial space, buildings and business in Delhi, Noida, Gurgaon & Pune. Hire best housekeeping services in Delhi NCR.