Maintaining cleanliness and a well-organized environment is crucial for any establishment, be it an office, educational institution, or retail store. In Pune, the demand for professional housekeeping services has been on the rise, with businesses and organizations realizing the importance of maintaining a clean and hygienic space. We will explore the top housekeeping services available in Pune and why they are the ideal choice for all your permanent cleaning and safety needs.
Role of Corporate Housekeeping Services
Corporate housekeeping services play a vital role in ensuring a clean, safe, and welcoming environment for employees, clients, and visitors. These services encompass a wide range of tasks, including regular cleaning, sanitization, waste management, and maintenance. Outsource your housekeeping services to uniformed staff for affordable and reliable upkeep of your premises, as these dedicated professionals are trained to deliver exceptional results consistently. With their assistance, you can create a positive and welcoming atmosphere that leaves a lasting impression on employees, clients, and visitors alike.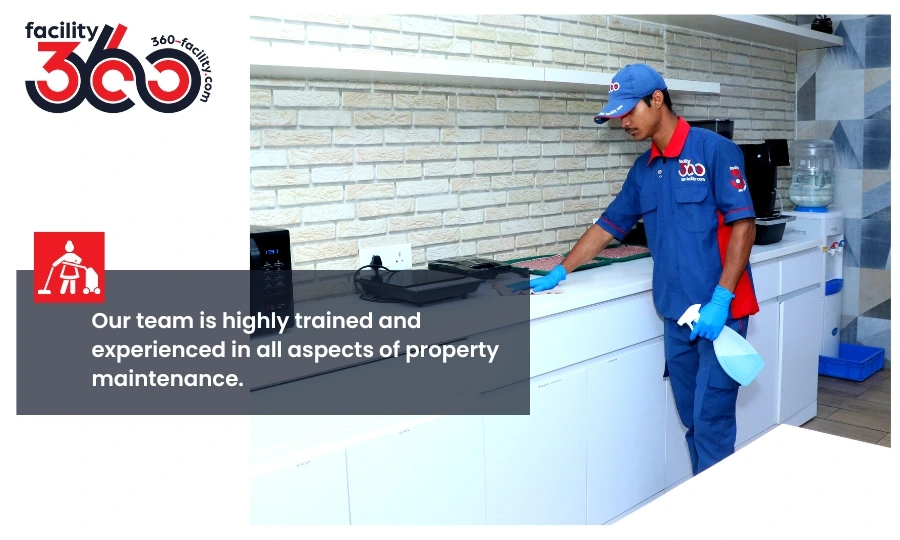 Best Housekeeping Company in Pune
When it comes to top-notch housekeeping services in Pune, one name stands out: 360 Facility. With years of experience in the industry, we have established ourselves as a trusted and reliable housekeeping agency in Pune. Our team of skilled and well-trained professionals is committed to delivering exceptional cleaning services tailored to the specific needs of each client.
Why Choose Us for Housekeeping Services in Pune
When it comes to top-quality housekeeping services in Pune for office, we stand out as a reliable and professional provider. Our commitment to excellence, attention to detail, and extensive experience in serving various sectors and industries across Pune make us the preferred choice for all your housekeeping needs.
Here are the reasons why you should choose us:
1. IT Parks
We have established ourselves as a trusted partner for housekeeping services in Pune in renowned IT parks such as Mention Infotech Park, EON IT Park, and Cerebrum IT Park. Our dedicated team understands the unique requirements of the IT industry and ensures a clean and hygienic work environment for your employees.
2. Corporate Offices
We cater to corporate offices of all sizes, offering customized housekeeping solutions tailored to your specific needs. Our well-trained staff will maintain cleanliness and hygiene in your office spaces, ensuring a professional and welcoming atmosphere for your employees and visitors.
3. Educational Institution
 From schools to colleges and universities, we understand the importance of cleanliness in educational institutions. Our housekeeping services encompass classrooms, libraries, laboratories, common areas, and more, ensuring a clean and conducive environment for students and staff.
4. Manufacturing Facilities & Industrial Units
We serve manufacturing facilities and industrial units in areas like Chakan, Chinchwad, Bhosari, Pirangut, Hinjawadi, Talegaon, Talawade, and Urse. Our housekeeping team is equipped to handle the unique challenges of these environments, maintaining cleanliness and safety standards to support smooth operations.
5. Ed-tech Companies
As the ed-tech sector continues to grow in Pune, we offer specialized housekeeping services to meet the needs of ed-tech companies. Whether it's cleaning virtual classrooms, tech equipment, or training facilities, we ensure a clean and organized environment to enhance productivity and focus.
6. Retail Stores
We understand the importance of cleanliness in retail stores, where a clean and well-maintained space directly impacts customer satisfaction and sales. Our housekeeping services in Pune cover cleaning aisles, shelves, restrooms, and other areas, creating a pleasant shopping experience for your customers.
7. Government Buildings
Our expertise extends to serving government buildings, including administrative offices, public facilities, and institutions. We adhere to strict protocols, ensuring cleanliness, hygiene, and compliance with government regulations in every aspect of our services.
8. Malls
We provide comprehensive housekeeping services to malls, keeping them clean, sanitized, and presentable for shoppers. From thorough cleaning of common areas and restrooms to maintaining cleanliness in food courts and entertainment zones, our team ensures a pleasant and safe environment for visitors.
With our award-winning housekeeping services and commitment to customer satisfaction, we are the top choice for housekeeping services in Pune. Contact us today to experience our unmatched quality and professionalism.
In today's fast-paced world, ensuring a clean and well-maintained environment is essential for the success of any business or organization. With the top House Keeping services in Pune, you can achieve exactly that. By choosing 360 Facility Services as your housekeeping partner, you can trust in our expertise, professionalism, and dedication to delivering outstanding cleaning services. We not only provide exceptional housekeeping services but also offer the option to hire permanent staff for housekeeping. This allows you to have a consistent and reliable team dedicated to maintaining the cleanliness and tidiness of your establishment in Pune. Contact us today to experience the difference that our award-winning housekeeping services, along with the option to hire permanent staff, can make for your establishment in Pune.